Miru and Kaku (ミル・カク) debut in the first episode of Hatoful Boyfriend: Holiday Star, "The Christmas Thieves Attack!".
They are never seen without the other, and are mischievous with a great love of Christmas. They like to disturb Shuu.
In the Holiday Star demo, we see them in the infirmary with Yuuya, wishing Merry Christmas. Later, they start the cheering for the Popocures. Shuu was overseas during the whole story.
The main thing they seem to say is "Merry Christmas" (メリクリ).
Early Life
Edit
They're lab accidents from the St. Pigeonation's bio lab Ryuuji and Shuu worked in.
They were going to be killed when Ryuuji saved them and brought to them a great love of celebrations and Christmas.
"The Christmas Thieves Attack!"
Edit
After an unusual bout of sentimentality, Shuu accepted them into his care after they were discovered robbing Christmas trees from all over town near Christmas time. They ended up transforming the infirmary into something unrecognisably festive.
"Fallen Chronicles: Absolute Zero"
Edit
"The Day the Night Slept (Before)"
Edit
"The Day the Night Slept (After)"
Edit
Hatoful Manga
Edit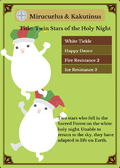 Physical Description
Edit
Nobody really knows what species of dove they are exactly, though they still sort of look like doves. The little lab ring tags on their right legs have Ryuuji's name.
Personality and Traits
Edit
Notes and References
Edit
Ad blocker interference detected!
Wikia is a free-to-use site that makes money from advertising. We have a modified experience for viewers using ad blockers

Wikia is not accessible if you've made further modifications. Remove the custom ad blocker rule(s) and the page will load as expected.